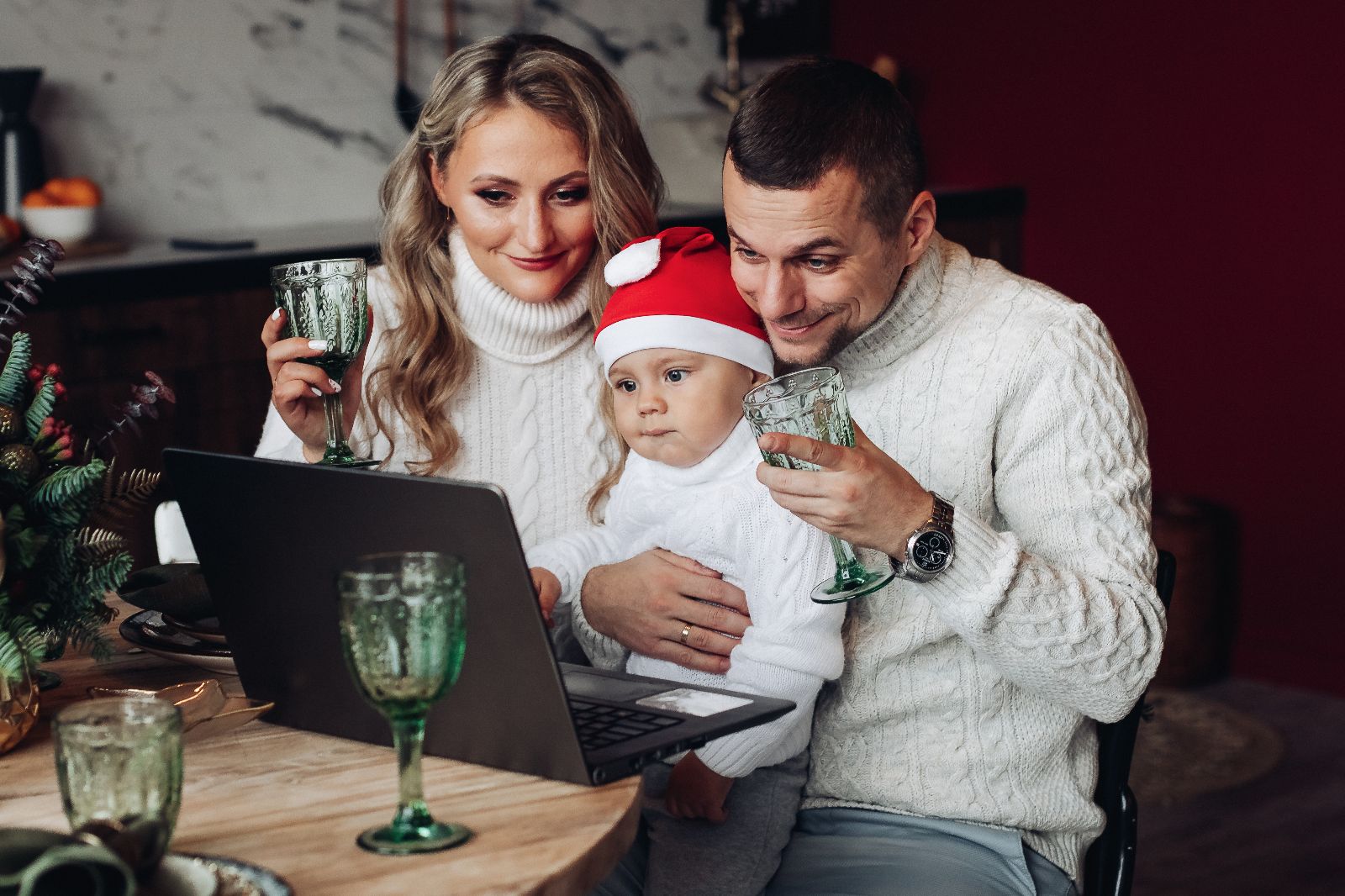 "Be grateful for your life…every detail of it…and your face will come to shine like the sun." ~Rumi
December 22, 2020
On this 2nd day of winter, the view out my window looks inviting.  Clear blue sky, sun shining bright, tree branches gently swaying, as my friend the Blu Jay chooses to take a break from flight, landing on a chosen branch for a few brief moments.  Sometimes he ventures back time and time again…sometimes…but never seeming completely still as he is always looking around for what's next.
I feel that in me today, finding it challenging to simply be in the stillness, listening within and without to the timeless sounds of silence, as I try to silence the "to do" list growing in my head so that I can be with the surfacing memories of Christmases past and the anticipation of the one that is soon to be.
It is that time of year where the busyness of the holidays turns into an energetic rush to the finish line. The one more thing, the one more trip to the store, the one more cookie to make, the "one more" in our effort to create magical experiences that lead to treasured memories.
The "one more" today scrolling through my head is what about that letter I have wanted to write.  A Christmas letter perhaps.  Or maybe it is a winter solstice reflection. Or a Happy New Year greeting.  Or an overdue thank you for being there for us this time last year when we were holding onto hope, faith and love, bolstered by prayers, thoughtful acts and words, along with the care of David's "front-line" heroes.
Sitting down to the keyboard to allow my words to flow through my fingers, I now know it is all the above as 2020 comes to an end, completing a year of the unexpected where we are noting all that we missed as social distancing, you are on mute, and where's my/your mask became part of our everyday life, and all as we ponder the best way to accommodate these new norms and celebrate the holiday.
We have forged onward, adapting as we choose, reflecting on ideals and ways that are no longer serving the good of the whole, and accommodating different ways of being and doing to create a new way, to grow as individuals, as humans, as families, as a community, as a country.
Listening to a winter solstice ceremony, I was reminded of the analogy of the seed, soil and light.  Seeds begin growing in the dark. Germinating to with time reveal itself to the world where light ensures its continued growth.  But not light without darkness. Nor light without water, raining down. Nutrients from above and from below as its roots remain hidden, stretching out, reaching out in all directions further into the nourishing soil.  The "both/and" truth of life. Light and dark intermingling to give us life. One cannot live without the other.  Cannot.
Yesterday, the season of winter officially began. A time where we typically hunker in, cuddle up, wrap up and wait. The irony is it begins on the day when light starts returning to our day, 50 seconds at a time.  Not even a minute.  Gently reminding us of the power of one small step, one random act of kindness, one deep breath, one insight, one smile, one hug, one word, one moment of silence, one piece of dark chocolate, one…
We have been blessed to experience all of them this year and to benefit from the cumulative effect. 2020 began with David returning home to his recliner, to Rumi, and to me.  A homecoming like no other. And in time, he returned fully to life, to watching Maddox's basketball games, to visits with his mom, to laughs and hugs from his friends, children and four grandkids, to work, and ultimately ventures to the cabin and to the lake.  Normal life. Blessed life. Even during the pandemic that became our collective new reality on his birthday.
As this is also a Christmas letter, that means I share other highlights of our year. Overall, our family is healthy, happy, fulfilled, employed and adaptive.
In July, we celebrated the adoption of our granddaughters, Moncia and Meia officially creating a family of five for our daughter and her husband. Maddox is the quintessential big brother making the most of that role and enjoying having his sisters to play with.  They moved into a beautiful new home, adopted a new furry friend, Pongo to join Panda, and have a large backyard to romp and play.  They are delightful and it is heartwarming to witness.
Our son and his wife celebrated their daugher's 1st birthday as the pandemic began.  Gathered at the lake for a holiday celebration, we all witnessed Chloe's first steps on July 4th, and have been enjoying chasing her around ever sense.  Nothing like the wander and wonder of a toddler.  They, too, decided to move in a pandemic and sold their house before finding their new home, moving in with us.  Multigenerational living in 2020 adding new treasured memories. They will begin 2021 in their beautiful new home in the woods.
We are grateful they are all doing well and healthy.  And we are proud. Each has had their share of ups and downs, twists and turns, joys and sorrows, and are finding their way living full lives.
The year 2021 begins in a few short days…and nights.  I hear the common reframe "thank goodness" 2020 is almost over. And yet many of the challenges remain as we grapple with the continued volatility, uncertainty, complexity and ambiguity of this time of multiple crisis'.
This history making time. So, yes, Happy New Year…we hope and pray, and endeavor to create.
Yesterday, we had the opportunity to witness for the first time in 800 years the great conjunction of Saturn and Jupiter where they aligned in the sky, appearing to be separated "by less than a dime's thickness held at arm's length apart or one-tenth of a degree" even though they are hundreds of millions of miles apart, forming a star on winter solstice.  I marvel at this. At how this even happens. At how we know this to be true and can see it. At how we do because of all who have come before us as I also wonder what all will do who come after us.  The next one is supposedly going to be even better than this on March 15, 2080…I wonder what our grandchildren will be thinking then.
My friend and colleague, Mary Jane Umberger, of Kansas roots, spearheaded and "orchestrated" a book "co-authored by a symphony of contributors" titled Simply Grateful, a snapshot in time. (www.wythegratitude.com)   She reminds us of Shawn Achor's research and work that purports "only 10% of our happiness is determined by our external circumstances. The remaining 90% is derived from the lens through which we view our world."  Living life through the lens of gratitude helps us see that as humans we are more alike than we are different and that we can bridge our difference by discovering common ground connections when we share what we are grateful for.
Please receive our sincere appreciation for your care, your friendship, your thoughts and prayers and all the ways you carried us forward, moment by moment, during this time last year.
The sun is now setting out my window, drawing a close to the day, yet 50 seconds later than yesterday.  Enjoy the light, make the most of the darkness, and hope for a brighter tomorrow.